i was watching an episode of Southern Steel last night and learned that Gary Woodford, of Milwaukee Iron, passed away.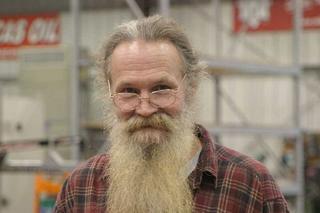 when i saw the credit last night dedicating the show to him, i felt a sense of loss. i don't really know much about him, pretty much that he's one of the three primary builders at milwaukee iron. i've been watching southern steel for about a year and really only know him from what they show on the program. but i liked what i was able to learn about gary, as well as lee and randy. i liked the interaction they had with each other. i liked the way gary never seemed to let things get to him - he always took things in stride. he really seemed to enjoy life, knowing what was important and what wasn't.
i'm assuming the above is a picture of gary in younger years - i think you can see his sense of humor in the photo...
i got to see gary, lee and randy earlier this year at the easyrider show in charlotte, nc. i didn't know much about them and didn't really take the opportunity to talk to them other than to say hi and i liked the bikes they build. i wish i would have talked to them more. in case you don't know, from the very left (to right) it's gary, lee and randy. the others in the picture are just spectators.
this is the build they were building in the show they dedicated to gary.
there's a memorial service for gary on october 29 and 30 in lynchburg, va. the memorial will be held at
rubs restaurunt
in lynchburg. i'm going to try to be there the 30th.
Peace Gary...